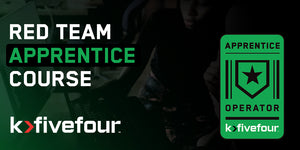 Students learn and prepare for starting a career emulating nation-state level cyber threats and adversaries. The exclusive Red Team Apprentice Course is the first course in a three-course series. Successful completion of the Red Team Apprentice Course is required before enrolling in the Red Team Journeyman™ Course (RTJC) or the Red Team Master™ Course (RTMC).
In the Red Team Apprentice Course, students learn how adversaries accomplish high-profile attacks. The course is continuously updated and built around the most recent intelligence on nation-state level cyber-attacks and adversaries found in open source, industry threat reports.
This course follows an attack methodology that mimics the structure of nation-state hackers. Students learn over 5 days in a guided, hands-on lab driven network attack scenario, utilizing a purpose-built training environment, and each student conducts a Red Team operation against a simulated Microsoft® Windows® domain network. The course concludes with an optional practical certification exam to test the knowledge gained in the course.
The 5-day course agenda covers the following topics:
Red Team Apprentice™ Course Foundations

Introduction to Red Team Operations

Red Team Methodology

Mission Preparation

Open Source Intelligence (OSINT) Collection and Analysis

Active Reconnaissance

Target Exploitation

Post Exploitation Activities

The Accomplishment of Mission Objectives and Review
This course voucher can be redeemed for one open seat in a k>fivefour Apprentice Course, and includes an Apprentice certification attempt
After purchasing this voucher, a k>fivefour representative will contact you to coordinate delivery/assignment. This voucher expires 1 year from date of delivery.